I've been on the lookout for
good training regimes for FM 2012
and after some research I can say that this post includes the very
best training schedules for Football Manager 2012
. I have visited almost every
Football Manager
fan site and forum out there looking for these and I have selected
four training schedules
that look good enough to make a difference. Let me introduce them one by one.
Maestro Ugo's FM 2012 Training Schedules
Maestro Ugo was pretty successful with his schedules for FM 2011 and now he strikes again with brand new training regimes for
FM 2012
. There are both senior and youth schedules included and the basic philosophy is, according to the author, as follows: "
Create training regimes of slightly higher workload than the default ones (two ticks higher workload), that would emphasize what I consider to be important attribute for a given

position

. Even though the SI finally started differentiating between

positions

by implementing four different default schedules, I still feel more differentiation is needed, thus creating these. Youth training should be more versatile than the senior one, thus the youth schedules are more general, ensuring players will improve in most of the areas, but still focusing on the position

specific

ones.
"
Here is a quick run-down of the included schedules:
Senior schedules:
MU – GK: for keepers
MU – FB: for fullbacks
MU – WB: for wingbacks
MU – DC: for central defenders
MU – DM: for defensive midfielders and defence oriented MCs
MU – AM: for attacking midfielders and attack oriented MCs
MU – WG: for wingers
MU – ST(fast): for fast, poaching type strikers
MU – ST(strng): for strong,
target
man type strikers
Youth schedules:
MU – Y (gk) – for young keepers
MU – Y (def) – for young defensively oriented players (DC, FB, DM)
MU – Y (wng) – for young wingers and wingbacks (AMRL, WB)
MU – Y (att) – for young attacking oriented players (ST, AMC)
You can find more information and download Maestro Ugo's training schedule by
clicking here
.
Macdab55 Training Schedules for FM 2012
This one also includes schedules for players on part-time contracts along with regimes for full time and youth players. Each category has the following specific regimes:
GK
- goalkeepers
CB
- central defenders
FB
- full backs
DMC
- defensive midfielders
MC
- central midfielders
AMC
- attacking midfielders
WIG
- wingers
ST
- strikers.
DOWNLOAD :
http://www.gamefront.com/files/20907054/schedules_rar
Ajinkx's Training for FM 2012
Ajinkx made something a bit more complex, based on SFraser's approach. There are two schedules for injured players that can be used to bring them back into shape quickly and there also are schedules for first team players, youth team players and schedules specifically designed for young players who have to be helped to reach their potential (these are the "Dev" schedules). Here's the full list:
For Goalkeepers :
AT GKs MainTeam
AT GKs Dev
AT GKs Youth
For Centre Backs:
AT CBs MainTeam
AT CBs Dev
AT CBs Youth
For Full backs:
AT FBs MainTeam
AT FBs Dev
AT FBs Youth
For Defensive Midfielders/Anchor Men/ Ball winning midfielders:
AT DMs MainTeam
AT DMs Dev
AT DMs Youth
For Central Midfielders:
AT CMs MainTeam
AT CMs Dev
AT CMs Youth
For Attacking Midfielders:
AT AMs MainTeam
AT AMs Dev
AT AMs Youth
For Wide Midfielders/Wingers/Inside Forwards:
AT WMs MainTeam
AT WMs Dev
AT WMs Youth
For Target Men:
AT TMS MainTeam
AT TMS Dev
AT TMS Youth
For Fast Strikers:
AT FST MainTeam
AT FST Dev
AT FST Youth
DOWNLOAD :
http://www.fmformation.net/downloads.php?do=file&id=3199
How to install training schedules in Football Manager 2012
1. If you have
downloaded
the whole pack including all the four schedules you will have to extract the downloaded "schedules.zip" file to Documents>Sports Interactive>Football Manager 2012. If you do that a folder named "schedules" will be created in there and it will contain all these training schedules (.tsh files).
2. Open your Football Manager 2012 game and navigate to your team's training screen. Then click the "Schedules" tab as shown in the screen shot below.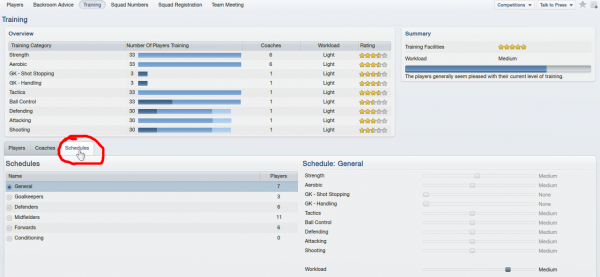 3. Click the "Manage schedules" button at the bottom of the screen.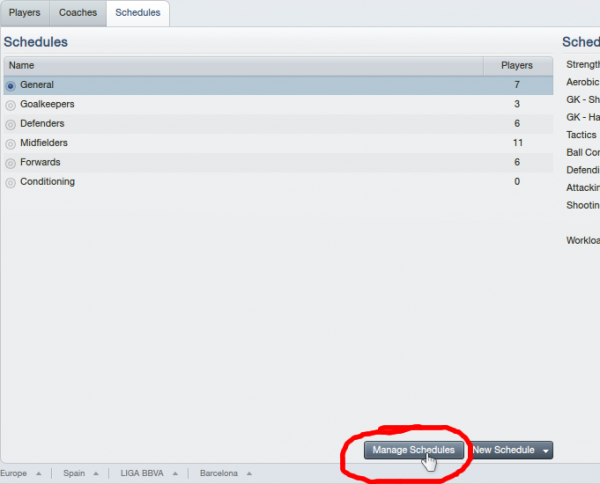 4. The "Manage schedules" window will
pop up
and there you will have to click the "Import" button.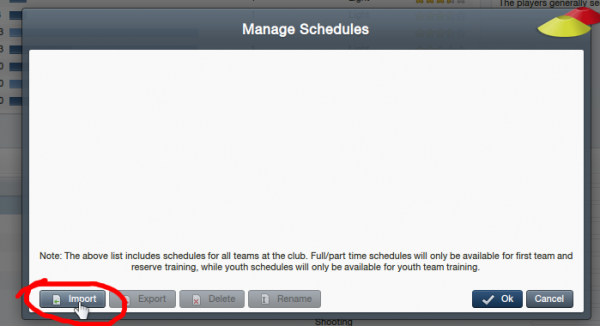 5. Once you click the "Import" button a
new window
will pop up and the game should have automatically selected the "schedules" folder as the source for importing (if that didn't happen just select that folder yourself from the drop-down menu.) All you have to do now is click the schedule that you want to import and then hit the "Select" button.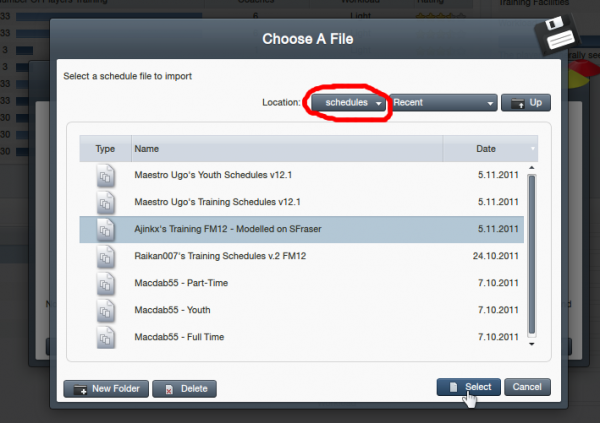 6. Once you do that all the training categories will be shown to you in a new window and all that you have to do is click "OK".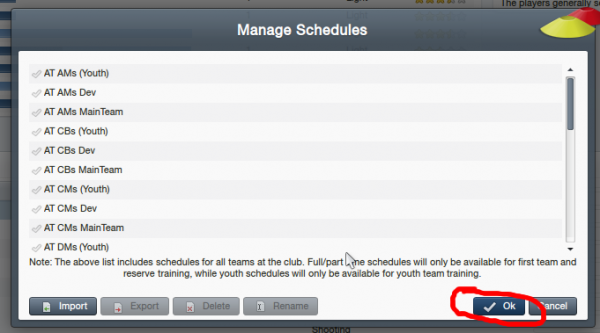 7. The schedules are safely imported in your game at this point and all that's left to do is to navigate to the "Players" tab and assign your players to the respective training regimes as shown in the screen shot below.
That's all, enjoy these fine training schedules for
FM 2012
and please let us know if you find any other good ones!